Lola and the Tree of Life Children's Book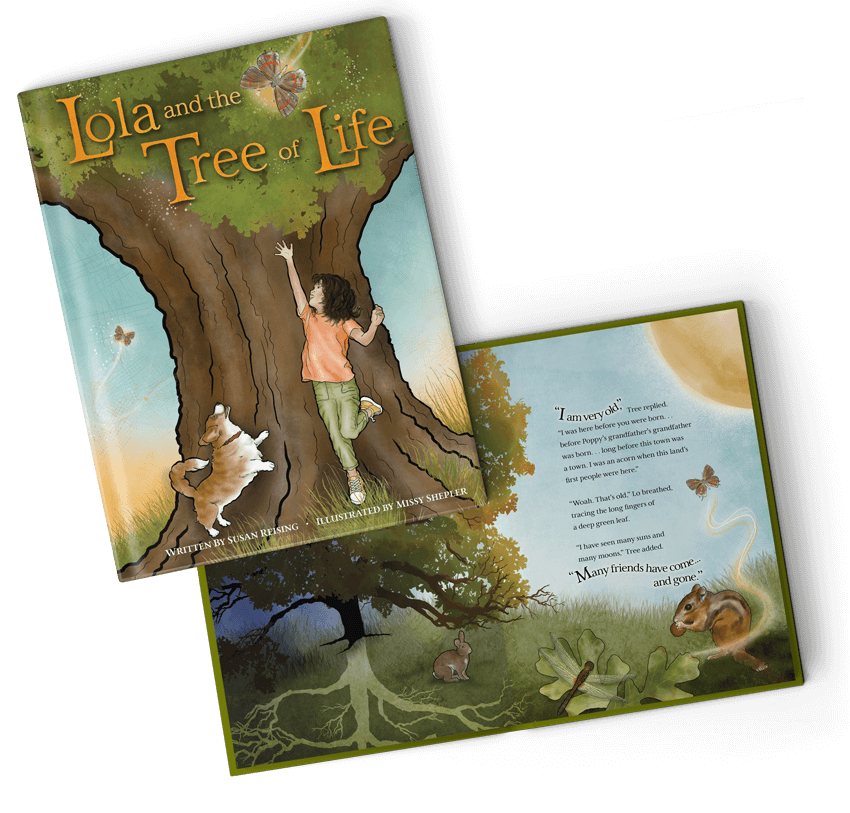 Lola and the Tree of Life
by Susan Reising (Author), Missy Shepler (Illustrator)
Central Illinois Book Store Locations
Peoria
All Peoria libraries
I Know You Like a Book
Proctor Hospital Gift Shop
Rick Renner Accounting office
East Peoria
Fondulac Library
Peoria Heights
Forest Park Nature Center Gift Shop
Also available online at:
"You and I and Poppy and Skye—and all things—are a part of something greater. We may look like we are separate, but we all are linked together in ways we sometimes cannot see."
These are the sage words of Tree, a massive old oak Lola often visits with her dog, Skye. Through her friendship with Tree, Lola has discovered the wonder of sunbeams sparkling through branches, worlds within worlds in bark and the comfort of a sturdy, welcoming trunk.
But today, something is bothering Lola: Her beloved grandfather, Poppy, is very sick and she's worried about what may happen next. In a heartfelt exchange, Tree helps Lola learn about the interconnectedness of all things and death as a natural part of life.
"Lola and the Tree of Life" is a lovingly told, richly illustrated story to guide adults in talking with young children about death as a part of life, the healing power of nature and the connections that do not end, even after the loss of a loved one.
List Price: $18.95
Bookshop.org price: $21.79, plus shipping
(supports independent bookstores and authors)
32 full-color pages with hardback cover
Environmentally Responsible
32 full-color pages with hardback cover
Environmentally Responsible
The author does a wonderful job of creating an engaging and appealing story that tackles a very difficult subject and, in doing so, offers hope and comfort to young children. The illustrations are full of movement and light and help to keep the heavy subject matter at an age-appropriate level.
This beautifully illustrated and written book sensitively describes life, death, the interconnectedness of all that is living, and the ongoing connectedness to that which has passed on before. "Lola and the Tree of Life" provides a comforting message to children who are facing grief and loss. A highly recommended read!
"Lola and the Tree of Life" is a lovely, well-told story that will help children understand loss and the circle of life. With gorgeous illustrations, this gentle tale works to reassure young readers and leave them with a feeling of hopefulness, even if they have lost someone special.
Talking about loved ones reaching the end of life is a very emotional conversation. "Lola and the Tree of Life" offers a positive perspective and thoughtful message. I'm glad I had the opportunity to plant that seed in my daughters' minds before being confronted with a difficult loss in our own family.